Ukrainian Bilingual Program
Ukrainian Program
The Ukrainian Bilingual program has been in Vegreville since it was first introduced in Alberta. The Ukrainian Bilingual program (instruction for 30-40% of the day in Ukrainian for Social Studies, Art, Music, Health, Ukrainian Language Arts) is available to students from Grades 1 to 6. The program begins with Ukrainian Language & Culture in Kindergarten (30 mins/day on Kindergarten days). Students achieve oral and written competence in English and Ukrainian. The learning of Ukrainian is accomplished through individual and group activities. Cultural celebrations related to holidays, foods, traditions, and songs are also important components of the Ukrainian program. 
New students can enrol in the Ukrainian program in Kindergarten to Grade 2. Exceptions can be made in Grades 3 - 6 if students have proficiency in the language from other schools or contexts.
Ukrainian is spoken by over 75 million people in the world. The Edmonton area and northeastern Alberta remain a stronghold of Ukrainian language and culture in Canada. 
Culture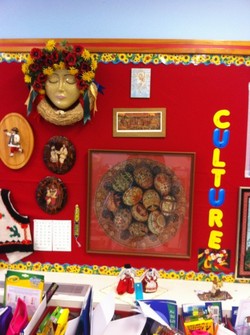 Ukranian Alphabet