Back to all posts
Posted on
Celebrations, Fun, and Ukrainian Programming Meeting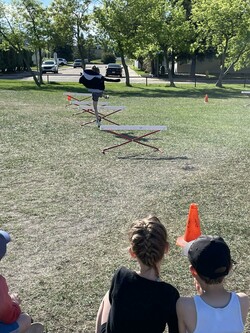 Students have been busy with year end learning and special activities. 
Classroom teams cheered each other on during our Track & Field Day events.
Grade 6 students celebrated moving on to junior high at their graduation ceremony last week.
Kindergarten students travel to our sister school, Pleasant Ridge Colony, this week and then welcome parents and caregivers for their Kindergarten Grad on Friday afternoon.
Grade 6 students have been reviewing and studying for Provincial Achievement tests which take place on Monday, Wednesday, Thursday, and Friday mornings this week.
Indigenous Peoples' Day activities will be happening all around the school on Tuesday. Learn the Chicken Dance online with elders, get creative with indigenous art, read about Alberta First Nations and Métis stories and traditions, and tune in to the division's Treaty 6 and Métis flag raising ceremony. 
UKRAINIAN PROGRAMMING MEETING - June 20 at 6 PM in the school gym
All parents and guardians are invited to join us for information relating to Ukrainian Bilingual and Ukrainian Language & Culture programs on Monday evening. Associate Superintendent Sandra Stoddard will share programming highlights and options for the 2022-2023 school year along with the school administration team. 
Check out our school Facebook page for photos of our latest school events.
Your journey begins here!
Keri Busenius   &    Rita Lal
Principal                 Assistant Principal