Back to all posts
Posted on
Eat Lunch with Your Child & Build a Playground Draw Winners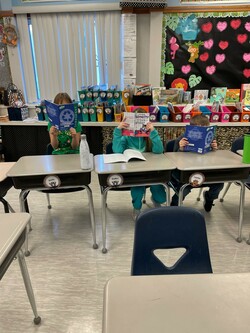 BUILD A PLAYGROUND FUNDRAISER - DRAW WINNERS
Congratulations to Nate S. and Damian U. who won the draw for a $10 Dairy Queen gift card after submitting their weekly pledges. Keep those pledges coming in and check social media later this week for an update on the blocks and pillars featuring names of donors!
JOIN YOUR CHILD FOR LUNCH DAY - RSVP BY 8 PM on May 24 to join us!
Our first Family Lunch Day is this Wednesday, May 25. Here is the information you'll want to know.
Please plan to arrive via the front doors between 12 and 12:15 PM.

You are welcome to bring lunch for yourself, for you and your child, and/or order hot dogs for lunch that day. 

All students who order hot dog lunch must pick up their lunch in their own classroom.

Parents and caregivers can meet at the classroom and head outdoors to eat after checking in with the teacher. Older children are asked to meet parents at the youngest child's classroom and then head outside to eat. 

The eastern side of the building has some shade for family picnickers with a blanket, but you are welcome to eat wherever you like outdoors until 12:50 PM.

If the weather isn't warm or dry enough for eating outdoors, the teacher will have a chair set up for you in your child's classroom. 

Unfortunately, we cannot accommodate siblings in other classrooms. Parents will need to select ONE child to eat with in case the weather is poor. 
Sign up to join your child for lunch on May 25 using this online form. Key information is available on the form, including times, check in information, selection of a child's classroom in which to eat, the option to eat outdoors, and ordering a hot dog for yourself that day. 
UPCOMING EVENTS
May 25 - Lunch with Parents/Guardians - outdoors or indoors (please RSVP)
May 25 -  Hot Dog lunch day (parents can order on the Parent Portal, too)
May 26 - Grade 6 field trip to Telus World of Science
May 27 - Boston Pizza Hot Lunch Day
May 27 - Grade 4 field trip to Fort Edmonton
May 27 - Fancy Bonnet or Fancy Formal Dress Up day for school spirit
May 30 - School Council and Friends Fundraising Society - meetings in the library begin at 6:30 PM
Your journey begins here!
Keri Busenius & Rita Lal
Principal  &  Assistant Principal