Back to all posts
Posted on
Interviews, Book Fair, Readathon, Pink Shirt Day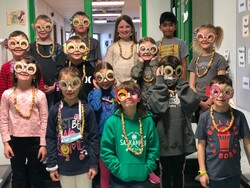 It's another busy week for staff and students - interviews, book fair shopping, the Readathon, Pink Shirt Day, and Tropical Dress Day!
Teachers are looking forward to speaking with parents and guardians over the next two evenings during early interviews. We'll be sharing celebrations for your child as well as next steps in your child's learning journey. 
Did you forget to book an interview for Tuesday or Wednesday evening? Please call the school office at 780-632-3113 for assistance.
Students are visiting the Book Fair in the library this week and are compiling "just right" books to read, read, read for the Readathon fundraiser!
Pink Shirt Day is Wednesday, February 23. This year, as people continue to embrace their cultures and identities, the theme is Lift Each Other Up. Acceptance, respect, and inclusion for everyone is as important as ever. Students will be learning about kindness, assertiveness, and courage when it comes to bullying, and also celebrating our community's diversity. 
Tropical Dress Day is on Friday, February 25. Bring your school spirit in the form of bright coloured clothing and imagine yourself on a beach or playing in the sand alongside the ocean!
READING FOR PLAY - READATHON INFORMATION
The Friends of A.L. Horton School Society has launched its Readathon Fundraiser. 
From February 17 to March 11, students are invited to set a "total reading time" goal and read (or listen to someone read) each day. 
Information came home with students on Friday, including a Reading Minutes tracking page and pledge collection forms. Extra copies can be accessed on the Parents Page of the school website. 

Donation receipts will be provided for $25 and up.
All pledge forms and monies are due back at the school by March 15. 
Monies raised will be used to replace the three school and community playgrounds coming to the end of their lifespan.

Prizes will be awarded based on pledge amounts collected by individual students and by classes. Students are also entered in a draw for prizes if they read for at least 15 days.
For parents, guardians, extended family, community members, and local businesses wanting to participate in the excitement, visit our Twitter or Facebook page.

Post a photo and/or an answer to this question: "What are YOU reading now?"
Daily video announcements will feature recent posts to celebrate with students that everyone is a reader. 
SCHOOL COUNCIL & FRIENDS OF A.L. HORTON SCHOOL SOCIETY MEETING
The next School Council and Fundraising Society meeting is Monday, February 28 at 6:30 PM. This week we will send home the Google Meet link and agendas for both meetings. Visit the Parents page on our school website to review past meeting minutes for both groups. 
SCHOOL SPIRIT NIGHTS AT THE OILERS GAMES
Enjoy discounted tickets to watch the Edmonton Oilers play! Use the QR code on the attached flyer (emailed home to families) to access savings for your family. You can also find this poster linked on the Parents page of our school website.
CYBERWORLD - ONLINE SESSION FOR PARENTS/GUARDIANS
Lakeland Ridge School and the Saffron Center are delivering a free session for parents on February 24 from 6:00-7:30 PM. Join via Microsoft Teams for Cyberworld: What Happens When Youth Press Send? Included in the presentation poster (emailed home to families) is the Teams link. You can also access the session information on the Parents page of the school website. 
UPCOMING EVENTS
February 22 & 23 - Parent/Teacher Interviews (virtual)
February 23 - Pink Shirt Day & Hot Dog Lunch Day
February 22 - 25 - Hybrid Book Fair
February 24 - Cyberworld online presentation
February 25 - Tropical Dress Day for School Spirit & Subway Hot Lunch Day
February 28 - School Council Meeting 6:30 PM (virtual)
March 2 - Early Dismissal at 1:55 PM; Staff Meeting
March 4 - No School; Professional Learning Day for all EIPS staff
March 18 - report cards posted online on the Parent Portal
March 25 - April 3 (inclusive) - No School; Spring Break
March 15, 28, and April 20 - School Spirit Nights at the Edmonton Oilers Game (see attached flyer)
Your journey begins here!
Keri Busenius & Rita Lal
Principal & Assistant Principal