Back to all posts
Posted on
Interviews, Read-a-Thon, & Wendy Brook Festival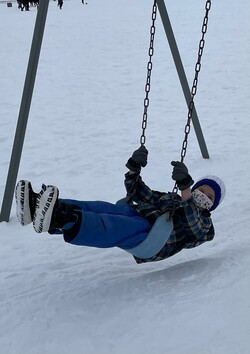 We're focused on "living like an Olympian", kindness, and courage this month. Get those t-shirts ready for Pink Shirt Day on February 23 and those bright colours ready for Tropical Dress Day on February 25. It's also Black History Month, so we'll be celebrating the achievements and contributions of Black Canadians and their communities.
Thank you to families for your kind words and unexpected treats arriving in the staff room this month. Teachers and support staff are working extremely hard to catch students up after bus cancellations, extreme weather, and absences due to illness. Indoor recesses with the cold weather and staff absences due to illness have added to the complexity of operations. Your thoughtfulness and offers of help have been greatly appreciated. 
Families are reminded that schools are closed on Thursday and Friday this week. Teachers are 'off to school' for Teachers' Convention on February 10 & 11. Sessions will be virtual but teachers look forward to learning, laughing, and finding inspiration for the important and exciting work they do with kids each day.
PARENT / TEACHER VIRTUAL INTERVIEWS - FEBRUARY 22 & 23
This winter's Parent/Teacher interviews are February 22 & 23 from 3:30 - 7:30 PM via phone or Google Meet. Teachers will send class-specific information home to families. The School Interviews link & code for signing up for an interview will be emailed to all families later this week. Bookings open on February 14. We look forward to sharing your child's learning celebrations and next steps with you later this month.
READING "FOR THE FUN OF IT" - READ-A-THON FUNDRAISER FOR PLAYGROUNDS
Leading up to March Book Madness and the Spring Book Fair is the A.L. Horton & Community Playground Read-a-thon fundraiser. More information coming early this week.
ATTENDANCE UPDATE
We are grateful to families for keeping children at home when ill. Absences due to illness have remained low in the last month. A number of students are learning at home because they are close contacts and are being cautious for the benefit of our school community. If you have questions about when your child can return to school or have other concerns about your child's attendance, please give us a call at 780-632-3113. 
STUDENTS PREPARING FOR WENDY BOOK MUSIC FESTIVAL 
March 7- 14 is this year's festival. Videos of A.L. Horton classes singing, playing instruments, reciting poetry, speaking Ukrainian, and/or performing skits will be uploaded to the Wendy Brook Music Festival Association in early March. Adjudication of each performance provides an opportunity for students to improve their vocal skills, confidence, and love of the arts. Thank you to students and staff for your creativity, teamwork, and practice!
MORNING ARRIVAL
Please ensure that children are not dropped off nor arriving at school prior to 8:15 AM. There is no supervision before this time nor are external doors open. Office and teaching staff who have arrived at the school early are preparing for morning operations and cannot ensure student safety prior to school opening at 8:15 AM. 
RETURNING, KINDERGARTEN, & NEW STUDENT REGISTRATION
Many registrations for the 2022/2023 school year have been completed by parents/guardians via the Parent Portal. A reminder to all families that returning student registration closes February 28. We're excited to begin planning for next year.
EDUCATIONAL ASSISTANTS NEEDED
Elk Island Public Schools has job ads posted for Educational Assistants in the Vegreville community. If you know of individuals who are working on early learning or education credentials, or if you are interested in working with children and assisting teachers with instruction in elementary, junior high, and/or senior high classrooms, please see job postings here and consider joining our team.
Your journey begins here!
Keri Busenius & Rita Lal
Principal & Assistant Principal