Back to all posts
Posted on
PIZZA PICK UP, FALL BREAK, AND VOLUNTEERS NEEDED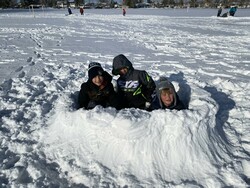 A reminder to all families that we're on Fall Break November 7-11 (no school).
We welcome back Mr. Maskal to Grade 6 and the Ukrainian Language & Culture program. Mrs. Bombak will continue to be a substitute teacher in classes throughout the year. 
LITTLE CAESAR'S PIZZA PICK UP - NOVEMBER 17 at 10:30 AM
Pizzas from the October fundraiser are arriving on Thursday, November 17. Please confirm with friendsofalhortonschool@gmail.com a time you can volunteer to sort pizza orders from 10:30 - 12:30 PM. Pick up will take place from about 12:30 - 5:00 PM. More details coming after the break confirming pick up location. 
Please contact the fundraising society at the email above if you can volunteer as a Board member. All fundraising opportunities are on hold because there are no volunteers to run the fundraising society. 
VOLUNTEER OPPORTUNITY - LEGION BREAKFAST
The Legion needs your help! Our school community is designated to support their breakfast on December 11. Please email Connie Bay at connie.bay@eips.ca if you can volunteer that morning. Three individuals are needed. 
IMPORTANT DATES
November 5 - 13 No School; Fall Break
November 13 - 18 Bullying Awareness & Prevention Week
November 23 Farm Safety presentations K-6
November 25 Report Cards online on Parent Portal by 4 PM
November 25 Jersey Day for school spirit
November 28 School Council meeting 6:30 PM
December 7  Early dismissal at 1:55 PM for staff meeting
December 14 Christmas Concerts - 5 PM for A-L & 6:15 PM for M-Z families
Keri Busenius      &        Rita Lal
Principal                         Assistant Principal
Connecting to foster the minds and hearts of leaders.