Back to all posts
Posted on
Registration Opens in February!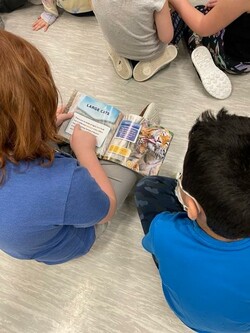 Please read on for 2022/2023 registration information - PALS, Kindergarten, returning students, and the Ukrainian Program. 
PALS (PLAY AND LEARN AT SCHOOL) REGISTRATION
If you have a child who was born in 2018 or 2019 and who is experiencing challenges with speech, language, and/or motor-skill development, the PALS Program could help! To learn more about the program at our school, visit https://www.alhorton.ca/programs/pals . For EIPS registration information, please visit the division website: https://www.eips.ca/programs-services/early-learning/pre-kindergarten/registration 
KINDERGARTEN REGISTRATION IS NOW OPEN
Is your child turning five on or before Dec. 31, 2022? 
If so, it's now time to register for kindergarten. To register, simply complete the online registration form at www.eips.ca/kindergarten .
To help families prepare, Elk Island Public Schools has put together an online EIPS Kindergarten Tool kit to make the transition as smooth as possible. The kit includes information on registration, important dates, programming options, what to expect, eligibility, how to find your designated school, transportation and more.
Additional information regarding A.L. Horton's Kindergarten program is available at https://www.alhorton.ca/parents/kindergarten-registration .
COMPLETE THE RETURNING STUDENT REGISTRATION - FEBRUARY 1 - 28
Elk Island Public Schools' (EIPS) returning student registration process is now open. All returning students must complete the online Returning Student Registration Form to confirm their child's enrollment in a school for the upcoming 2022-23 school year. Additionally, students who want to attend a non-designated school need to make that request through the returning student registration process—acceptance is based on available space. All returning EIPS students are required to complete the form by Feb. 28, 2022.
To access the Returning Student Registration Form, simply log in to the PowerSchool Parent Portal.
If you don't have a PowerSchool Parent Portal account, you do need to set one up. For help see: Create a PowerSchool Parent Portal account .  For assistance, contact the school.
UKRAINIAN LANGUAGE PROGRAM OF CHOICE 
Surveys and consultations with parents have informed the 2022/2023 Ukrainian Program plan. Outlined below is program information. This information will also be shared on social media platforms.
Kindergarten students whose families have selected this program of choice will receive Ukrainian Language and Culture instruction for 30 minutes per day on Kindergarten days. Families will need to be flexible as we determine, based on enrollment, whether Ukrainian is offered on "A" or "B" Kindergarten calendar days. Ukrainian language instruction occurs during English language instruction, so students will not "miss out" on Physical Education, Mathematics, or other curricular areas.
New students will be accepted into the Ukrainian Program in Kindergarten through Grade 2. Parents/guardians shall select this program of choice prior to the start of the school year to ensure staffing and class lists can accommodate requests. Exceptions may be made in Grades 3 - 6 if a new student has Ukrainian language proficiency from a previous school or from speaking the language at home.
Grade 1 - 6 Ukrainian Bilingual program students will receive language instruction for 35% of the school day. Ukrainian Language Arts, Music, Art, Physical Education/Wellness, and Social Studies will be curricular areas for language instruction. Students will have opportunities to use language skills during other parts of the school day and in other subject areas. In view of interruptions to language programming over the past two years, teachers and school administration will continue to consult with parents and guardians to ensure the program is meeting student learning needs. Differentiation in Ukrainian classes and English core subjects is achieved through universal supports offered in all classrooms. Class configurations - including combined grades, homerooms, and options scheduling - will be determined later this spring based on enrolment. 
More information about the school's program can be found on our website: https://www.alhorton.ca/programs/ukrainian-bilingual-program . Alberta's Ukrainian Language Arts curriculum can be read at this link. 
EIPS 2022-23 DIVISION CALENDAR: NOW AVAILABLE
The 2022-23 calendar includes important dates during the school year, such as school-closure days, breaks, the first and last day of classes, professional learning days, early dismissal days, and more.
Highlights from the 2022-23 EIPS calendar include:
first day of school – Aug. 30, 2022
November break – November 7-11
Christmas break – December 21 to January 3
Second semester starts – January 31
Teachers' Convention – February 9-10
Spring break – March 24-31
Last day of classes – June 27, 2023
To view the 2022-23 calendar, visit https://www.eips.ca/about-us/whats-new/post/eips-2022-23-division-calendar-now-available 
Did you know you can sync the Division calendar to your personal calendar? You can. Simply, visit www.eips.ca/calendar  and click on "subscribe to calendar." 
Your journey begins here!
Keri Busenius & Rita Lal
Principal & Assistant Principal