Back to all posts
Posted on
SCHOLASTIC "STOP THE SUMMER SLIDE" BOOK FAIR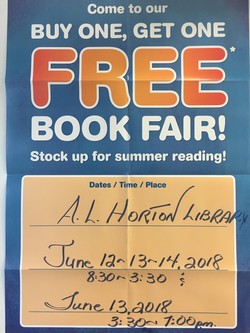 A.L. Horton will be hosting their FINAL Scholastic Book Fair from Tuesday, June 12th, through Thursday, June 14th, 2018, 8:30a.m. - 3:30p.m..  Your chance to get some wonderful reading material for the summer!!!
This book fair is the ½ price, or buy one, get one free event.  All material is reduced, and YES, you pay ½ of the marked price. 
The library will be open during the day as well as during one late night – June 13th. 3:30p.m.-7:00p.m.
Proceeds from the book fair directly support the purchasing of new student resources for the library.  Reading is a very important part of your child's education. Be interested in their reading by asking them what they are reading and share your love of reading with them.