Back to all posts
Posted on
School Oral Health Services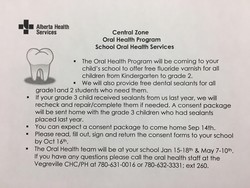 The Oral Health Program will be coming to your child's school to offer free fluoride varnish for all children from Kindergarten to grade 2.
We will also provide free dental sealants for all grade1and 2 students who need them.
If your grade 3 child received sealants from us last year, we will recheck and repair/complete them if needed. A consent package will be sent home with the grade 3 children who had sealants placed last year.
You can expect a consent package to come home Sep 14th.
Please read, fill out, sign and return the consent forms to your school by Oct 16th.
The Oral Health team will be at your school Jan 15-18th & May 7-10th. If you have any questions please call the oral health staff at the Vegreville CHC/PH at 780-631-0016 or 780-632-3331; ext 260.