Back to all posts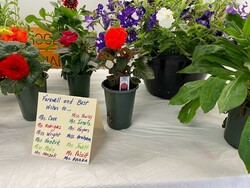 Dear A.L. Horton Elementary Families,
We've finished the school year strong, with many field trips, special events, and celebrations taking place in the last month. Grade 6 students completed their Provincial Achievement Tests and toured Vegreville Junior-Senior High School this past Friday. They celebrated their moving on ceremony as did the Kindergarten students, who are moving on up to Grade One!
Teachers have been hard at work writing report cards which are released this week. They have also spent many hours collaboratively designing class lists. These will be posted on the first day of school and a welcome email will come from next year's teacher when class lists are final in late August. 
Thank you to all families and community members for your support with the Build a Playground fundraiser this spring. The Friends of A.L. Horton School Fundraising Society's project has raised over $10 000 for the playground replacements in 2023!
We wish all of our students and families a restful and memorable summer break!
THE 2022-2023 STAFF TEAM --
PALS (Play & Learn at School) - Ms. Giebelhaus with Mrs. Dinwoodie
KinderCare - Mrs. Powley
Kindergarten - Mrs. Bortnick 
Grade One - Mrs. Kozak & Mrs. Miller
Grade Two - Mrs. Barlott & Ms. Reid
Grade Three - Mrs. Palamarek & Mrs. Semeniuk
LINKS (Learning - Independent Knowledge & Skills) - Ms. Umphrey-Mizera with Mrs. Fedorouk, Mrs. Granger, Ms. Saint, Mrs. Wortel
Grade Four - Miss Billingsley & Mrs. Kuhn
Grade Five - Miss Kozicki & Miss LeClair
Grade Six - Mr. Barkwell & Mr. Maskal
Ukrainian Language Learning Team - Panni Fedorouk & Pan Maskal
Counsellor - Ms. Giebelhaus
Educational Assistants - Ms. Duk, Mrs. Shell, Mrs. Wakaruk
Learning Commons - Mrs. Shell
Office Team - Mrs. Bay & Mrs. Golka
Assistant Principal - Mrs. Lal
Principal - Mrs. Busenius
Farewell and best wishes to the following staff members: Mrs. Cave, Miss Graham, Mrs. Hankirk, Mrs. Hyshka, Mrs. Ionetz, Mrs. Jewett, Mrs. Korpan, Mrs. Mali, Mrs. Menzak, Miss Modin, Ms. Palsitt, Miss Powley, Ms. Rodriguez, Ms. Wright
UPCOMING EVENTS --
June 28 - Field trip to the Capitol Theatre (Grades 1-3 in morning and Grade 4-6 in afternoon)
June 28 - Last day of school
June 28 - Report Cards are available on the Parent Portal by 4:00 PM
-----
August 30 - First day of school in the 2022-2023 school year
September 1 - Meet the Staff Night from 4:00 - 5:30 PM 
Your journey begins here!
Keri Busenius & Rita Lal
Principal  &  Assistant Principal