Back to all posts
Posted on
THE A.L. HORTON WAYFINDER - Halloween & Remembrance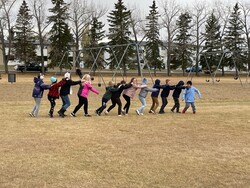 It's a busy week as we move toward Fall Break! This week includes Halloween Monday and Remembrance Friday. No school November 5 - 13 due to the Fall Break. 
HALLOWEEN - MONDAY, OCTOBER 31
Our beasties and divas can come dressed up on Monday as we celebrate the spooky day at school. Here are highlights:
The Halloween parade is at 9:00 AM in the gym. Parents and caregivers are welcome to join us. Please note that adults are standing up along the gym walls and we are not putting out chairs for the parade. This allows us to get right on with physical education classes afterwards!
Four classes are visiting in costume at Homestead Lodge: Kindergarten, 1Miller, 4Kuhn, and 6Bombak. Please remember to give permission to be off site via the Permission Click field trip form in your email inbox.
Grade 6 student leaders have planned a Haunted House. They are inviting donations to the Vegreville Animal Shelter for those classes walking through. 
REMEMBRANCE ASSEMBLY - FRIDAY, NOVEMBER 4
We are observing Remembrance Day on Friday, November 4 with a solemn assembly in the gym from 10:30 - 11:15 AM. There will be student presentations to honour the day and parents and caregivers are welcome to join us. We encourage students to dress respectfully this day (eg., avoid t-shirts with messaging). 
Please enter via the front doors and check in with the office if joining us at 10:30 AM.
FRIENDS OF A.L. HORTON SCHOOL SOCIETY - ANNOUNCEMENT 
-------All Fundraising Activities Will Be Postponed Until Further Notice-------
We were unable to fill executive positions at the September and October fundraising society meetings. Without a Board, fundraising efforts must be put on hold.
The Friends of A.L. Horton School Society was created to provide added benefits to the children attending A.L. Horton School. A small number of parents have been maintaining the society, but we need help. We urgently need parents or guardians to fill Board executive roles.
The time commitments for these roles are not significant.
The Society meets once a month for eight months of the year. In addition, the school has made it even easier so that you can now attend either in person or via online.
The Board positions that need to be filled are:
President – hosts the meetings and adds items to the agenda
Vice President – fills the President role, only if the President will be away
Secretary – takes minutes of meetings and sends to the school to post online
Treasurer – oversees financial activities
The executive provides leadership to the society, but they don't act alone. Our hope this year was to have each class oversee one fundraiser in the year, meaning we would be able to further divide the fundraising oversight away from the Board. While many parents have expressed an interest in helping out at fundraising events, these events cannot occur if we don't have an executive.
There are 353 students that count on the funds raised by the Friends of A.L. Horton School Society. We can make this work, but we all need to work together. Please contact either principal.alh@eips.ca  or friendsofalhortonschool@gmail.com  and offer up your name for the executive. Thank you in advance!
IMPORTANT DATES
October 31 Dress Up for Halloween; Halloween parade 9 AM in gym
November 2  Early dismissal at 2 PM for staff meeting
November 4 Remembrance Assembly 10:30 AM in the gym
November 5 - 13 No School; Fall Break
November 13 - 18 Bullying Awareness & Prevention Week
November 23 Farm Safety presentations K-6
November 25 Report Cards online on Parent Portal by 4 PM
November 25 Jersey Day for school spirit
November 28 School Council meeting 6:30 PM
December 7  Early dismissal at 1:55 PM for staff meeting
December 14 Christmas Concerts - 5 PM for A-L & 6:15 PM for M-Z families
Keri Busenius      &        Rita Lal
Principal                         Assistant Principal
Connecting to foster the minds and hearts of leaders.