Back to all posts
Posted on
THE A.L. HORTON WAYFINDER - OCTOBER 17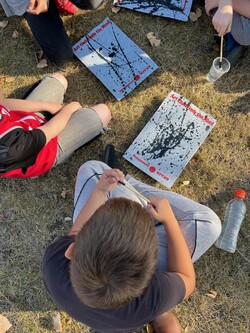 Here are a few more updates from this week and this fall.
HOT LUNCH PROGRAM 
Upcoming Hot Dog days are October 19 and 26. Visit the hot lunch website on Parent Portal to order hot dogs. The next Hot Lunch date is October 21 featuring Boston Pizza.
November's Friday Hot Lunches are Friday, November 18th - Quesadas and Friday, November 25th - Subway.  Ordering information will be coming soon.  We have so many great restaurants to choose from and support this year!  
Volunteers are needed to keep the hot lunch program running at our school. Please call the school office at 780-632-3113 if you can help us one or two days a month to prepare hot dogs and/or deliver hot lunches to classes. 
SCHOOL INTERVIEWS/ PROGRESS CONFERENCES
On October 25 and 26, join your child's teacher in the classroom for term one progress conferences. With report cards coming out in just a month, this is a great time to discuss what's going well for your child and next steps for growth. 
Teachers will highlight academic and social (friendship) celebrations and an area for growth.
If you have concerns coming into the conference, please note that an additional time to talk may need to be scheduled. Ten minute conferences go by quickly.
Please plan to knock at the door at your appointment time to let teachers and other parents know you've arrived and it's your time.
Enjoy walking about the school to see student writing and artwork.
The Book Fair will be open for shopping in the library learning commons from 4:00-7:00 PM. 
Visit the progress conferences website to book a conference with your child's teacher(s). This site opens to families on Tuesday, October 18 and closes each interview day at 12 noon. Check your email for the website link and code. 
Can't make it on October 25 and 26? Please contact your child's teacher(s) to schedule a conference at another time. 
ATTENDANCE AT SCHOOL - A KEY FOCUS THIS YEAR
At the September assembly we celebrated 139 students who had not missed any of the first sixteen days of school. Small prizes were awarded to those students in classrooms. We called them the NBA (Never Been Absent) Awards!
While perfect attendance is not always possible due to illness and medical appointments, regular attendance at school is important for a child's confidence, relationships, and academic growth each year. Two days' of absences each month equals a month of learning loss over the school year. We have a great deal of work to do in the areas of reading, writing, and numeracy with all of our students after pandemic interruptions.
Our current attendance incentive is "We're So Glad You're Here!" 

One of these days was Monday, October 17 (various Halloween-themed prizes awarded) and the other was the Terry Fox Walk day where all students received popsicles. 

It includes small prizes for students who are at school on randomly selected days. 

Next up is a holiday-themed initiative for November and December. 
Thank you to parents and caregivers for all you do related to sleep and morning routines, children's mental and physical health, and positive talk about school and learning! If we can assist you in this area, please check in with your child's teacher, school counsellor Ms. Giebelhaus, Mrs. Lal, or Mrs. Busenius.
MENTAL HEALTH & WELLNESS - OUR TEAM
Did you know that our school has a team for assisting children and families with mental health and wellness? 
Counsellor Ms. Giebelhaus - assists students who are not coping with workload and relationships at school
Miss K - Wellness Coach Kastyn Konieczny works in classes, teaching lessons about emotions, self-regulation, friendships and more. Miss K also runs various lunch time clubs for small groups of students.
Family School Liaison Worker (FSLW) practicum student/Wellness Coach Ms. McSween - Kirstin McSween knows many community organizations who can assist children and families with supports for mental, physical, financial, social, and emotional wellness. She is at our school on Wednesdays and Fridays.
Assistant Principal Mrs. Lal and Principal Mrs. Busenius lead the Mental Health and Wellness Team, liaising with team members, teachers, FSLW staff, parents and caregivers, and students. 
PAY SCHOOL FEES ONLINE!
School fee information for the 2022-23 school year is now posted on the PowerSchool Parent Portal. All fees are due within 30 days of being posted. To access your fee information, simply log in to the PowerSchool Parent Portal and go to "Student Fees." There you can view your fees and pay them online.
Don't forget to also log in to the PowerSchool Parent Portal regularly throughout the year. Fees are often added to your child's account to cover the cost of various school activities such as field trips, class projects, extracurricular activities fees and more.
If circumstances exist where you are unable to pay your fees, you can apply to have certain fees waived by submitting an Application for a Waiver of Fees. The application deadline is Dec. 15, 2022.
For more information about school fees, waivers and payment deadlines, visit www.eips.ca/schools/fees  and https://www.alhorton.ca/about/fees . Alternatively, contact Mrs. Bay in the school office at 780-632-3113. 
SCHOOL BUS SAFETY WEEK  - OCTOBER 16 to 22 
Schools throughout Elk Island Public Schools (EIPS) are celebrating School Bus Safety Week October 16-22. The theme: 'Make the World Green, Ride Yellow,' which focuses on transportation choice and the environment. Throughout the week, various activities are planned, including information sessions, bus-safety lesson plans and bus-evacuation drills.
As part of School Bus Safety Week, A.L. Horton School reminds students and families all Division school buses are equipped with a bus-pass scanner, GPS technology, the Child Check-Mate system and surveillance equipment, which allows Student Transportation to better monitor and manage its more than 170 buses. Families and students also have access to the Traversa Ride 360 app, a mobile tool to help determine the location of a bus, projected arrival times and when a child is scanned onto a bus.
For more information visit EIPS Student Transportation or contact 780-417-8151.
CAREGIVER EDUCATION SESSIONS 
Alberta Health Services hosts a variety of virtual caregiver information sessions throughout the year focused on ways to support students' mental health. The sessions are free and geared toward parents, caregivers, teachers and community members who want to learn more about challenges impacting children and adolescents. Session topics include anxiety, ADHD, depression, self-harm, technology, teens and teaching leadership skills, communication, resiliency and more.
 Visit Caregiver Education to see the monthly caregiver sessions.
ENHANCING LITERACY & NUMERACY 
As part of Elk Island Public Schools' (EIPS) ongoing efforts to enhance the literacy and numeracy of students in all grade levels, the Division is once again administering the Star Early Literacy and Star Reading assessment tools. The Division's also launching a new assessment, called Star Math. These tools focus on literacy and numeracy, are digitally based and offer an opportunity for students to demonstrate their learning. The goal: To provide timely information to teachers, help enhance classroom instruction and identify student learning needs.
Three times a year, EIPS students in Grade 1 complete the Star Early Literacy assessment and students in Grades 2-12 complete the Star Reading assessment. Both assessments are administered electronically and take about 20 minutes. 
Students in grades 2 through 10 also complete the Star Math, a screening tool. It, too, is administered electronically and takes about 30 minutes for students to complete. The results offer teachers a clearer picture of a student's learning needs and help determine if subsequent instructional planning is required. 
In addition to the Star assessments, Alberta Education now mandates all students in grades 1-3 complete additional literacy and numeracy assessments. Students in Grade 2 and Grade 3 completed these provincial assessments in September. Grade 1 students will complete the assessments in January 2023. EIPS also administers the assessments to all Grade 4 students to gauge learning loss from the pandemic, which the Division is now analyzing.
The scores of the assessments aren't used toward a student's grade, and there is no need to study ahead of time. The tools simply provide the teacher with information to better understand where each student is in terms of reading comprehension and mathematic ability. If, after analyzing the results, it's determined a student can benefit from extra support, the teacher will contact the family to discuss possible support strategies.
For more information about the Division's Star and MIPI assessment tools, contact EIPS Supports for Students at 780-464-3477.
INTRODUCING PERMISSION CLICK
EIPS has begun migrating school and Division forms to the online Permission Click platform. Many families will have already received one or more forms within the new system. Permission Click makes the form submission process for families simple and straightforward. Forms are also easily accessible and fillable from your mobile device. Families will generally receive forms in one of two ways—sent as a link within a SchoolMessenger email or in a direct email from Permission Click sent to the first parent or guardian on record in PowerSchool. Be sure to add notifications@permissionclick.com  to your safe sender list to ensure required forms aren't mistakenly directed to your junk mail folder.
IMPORTANT DATES
October 24 School Council meeting 6:30 PM in the learning commons
October 25 & 26 Progress Conferences (Parent-Teacher Interviews) 3:30 - 7 PM
October 25 & 26 Book Fair open 4:00 - 7:00 PM during conferences
October 24 - 28 Book Fair in library learning commons
October 27 Little Caesar's orders pick up day in field behind school
October 28 Photo Retake day
October 31 Dress Up for Halloween; Halloween activities 
November 2  Early dismissal at 1:55 PM for staff meeting
November 4 Remembrance Assembly 10:30 AM
November 5 - 13 No School; Fall Break
November 13 - 18 Bullying Awareness & Prevention Week
November 23 Farm Safety presentations K-6
November 25 Report Cards online on Parent Portal by 4 PM
November 25 Jersey Day for school spirit
November 28 School Council meeting 6:30 PM
December 7  Early dismissal at 1:55 PM for staff meeting
December 14 Christmas Concerts - 5 PM for A-L & 6:15 PM for M-Z families
Keri Busenius      &        Rita Lal
Principal                         Assistant Principal
Connecting to foster the minds and hearts of leaders.