Back to all posts
Posted on
The ALH Wayfinder - Staffing Updates, Masks, & Rapid Tests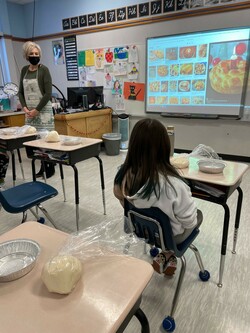 We have some staffing changes from over the Christmas Break to announce.
Welcome back to Mrs. Hayduk who is teaching Grade 2 for the remainder of the year. 
Welcome to the upper hallway, Miss Wright, who will be teaching Grade 5 this winter. 
We are delighted that Mrs. Hankirk will be teaching striving readers and mathematicians in Grades 2 & 3 as part of the government's Learning Disruption Funding initiative for a few months. 
Welcome also to Ms. Palsitt who is teaching Grade 4 and Grade 3/4 Ukrainian Bilingual for the rest of the year. 
Best wishes to Mrs. Divytska who has left our school so she can teach a bit closer to home in Edmonton. 
December was an amazing month of festive activities, including Ukrainian bread making and skating. It now seems so long ago! Check out our photos and posts on Twitter, Instagram, Facebook, and the school website to see us learning and enjoying the lead up to holidays!
Kindergarten Registration begins on February 1. Returning Student Registration is from February 1 - 28. 
Check out the latest Literacy at Home Newsletter: Reading Comprehension for parents and guardians.
UB PROGRAM
Please consider joining us virtually for a Ukrainian Bilingual Program parent consultation meeting on January 20 at 6:30 PM. All parents interested in the Ukrainian program are welcome, whether they have children in the program currently or not. We'll be sending out a meeting link and agenda early next week. Items on the agenda include goals for next year, celebrations in 2021/2022, the Kindergarten Language and Culture program, and Ukrainian Bilingual classroom configuration and programming options, based on enrollment. 
MENTAL HEALTH AWARENESS
In the weeks leading up to Bell Let's Talk Day on January 26, our announcements and conversations in classes will focus on mental health, mental illness, and supporting each other. Our Mental Health Capacity Building coaches have partnered with the Vegreville Cares Coalition and are offering free tickets to the Bell Let's Talk Game between the Vegreville Vipers and the Barrhead Bombers on January 22. Please email Kastyn.Konieczny@eips.ca by January 20 if you would like tickets for your child/children at the school. Miss K will get tickets to students as requests come in via email. 
MASKS & RAPID TEST KITS COMING HOME 
Medical-grade masks and rapid test kits have arrived and will be sent home on Friday afternoon. Please check your child's backpack for 20 government-supplied masks and 1 box of rapid test kits containing five tests (a 2 ½ week supply). The masks are disposable and are a two week supply for school. The rapid test kits are provided to give families peace of mind that children do not have COVID. They are recommended to be used every 3 days (eg., Monday, Thursday). 
Continue to check the EIPS website for the latest updates regarding School Operations Guidelines.
LEARNING AT HOME
Students are practicing Google Meets and logging into the Brightspace learning platform at school. Should your child need to stay home due to illness, please log in using your child's email and password to access news and assignments from the classroom teacher(s). Please contact your child's teacher if you are having difficulty logging in with your child. 
SCHOOL COUNCIL MEETING & VOLUNTEER REQUEST
School Council & the Friends of A. L. Horton fundraising society meeting on Monday, January 24 at 6:30 PM. A link to the virtual meeting will be sent out to all families via email next week. School fees for the 2022/2023 school year will be discussed. Hope you can join us!
Volunteers are needed for the Legion Steak Fry and Breakfasts. Volunteerism will help with the A.L. Horton Elementary playground fundraising goals.
WHEN:    Fri., January 28, 2022, arrive at 4:45 p.m.; supper 5:30 p.m. to 7:00 p.m.
WHERE:   Royal Canadian Legion Branch 39 – 5037 52 Avenue, Vegreville, AB
WHAT:     We require 4-5 volunteers to collect and wash dishes, wipe tables, assist with kitchen cleanup, and possibly dishing out food – dependent on Covid-19 protocols. 
PERK:    Supper is included
HOW:    Email the Friends of ALH to volunteer: friendsofalhortonschool@gmail.com 
Upcoming dates and information;

January 28th, 2022 – Steak fry
February 13th, 2022 – Breakfast – Sunday; require 3 – 4 volunteers;
May 27th, 2022 – Steak fry
Friends of A.L. Horton Elementary School Society
Like us on Facebook - Friends of A.L. Horton School Society
UPCOMING EVENTS
January 19 - Grade 3-6 Ukrainian Village field trip for the Feast of Jordan; Hot Dog lunch
January 20 - Parent consultation meeting re: Ukrainian Program 6:30 PM (virtual)
January 21 - Boston Pizza hot lunch
January 24 - School Council & Friends of ALH meeting 6:30 PM (virtual)
January 26 - Bell Let's Talk Day; Hot Dog lunch
January 28 - Crazy Hair Day for school spirit; Dairy Queen hot lunch
January 31 - No School; Professional Learning Day for teachers
February 2 - Early dismissal 1:55 PM; Staff meeting day
February 10/11 - No School; Teachers' Convention
February 21 - Family Day; No School
February 22/23 - Parent-Teacher Interviews in the evening (in-person or virtual - TBA)
February 25 - Tropical Day for school spirit
March 18 - Report Cards for Term 2 posted online
Your Journey Begins Here!
Keri Busenius & Rita Lal
Principal & Assistant Principal