Back to all posts
Posted on
The ALH Wayfinder - October 11, 2021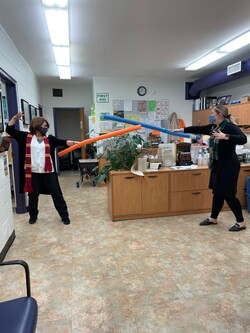 This past week was Read-In Week with the theme "To Each Their Own Story". Students read on their own and with partners in class, we read books on video announcements, classes viewed texts read aloud by favourite authors, and teachers read books to students in a variety of subjects. On Wednesday, staff and students dressed up as their favourite characters! The purpose of Read-In Week is to broaden perspectives and show empathy.
Sunday, October 10 was World Mental Health Day. On announcements last week and this week, we're featuring different ways to care for our mental health, with our physical health benefiting as well. We're talking about exercising when we're stressed, remembering to play, expressing gratitude, spending time with people we care about, and making time to laugh.
After just six weeks of school, we find ourselves approaching parent-teacher interviews. Please see information below to schedule an interview with your child's teachers. October interviews take place one month prior to the first report card, so at this interview teachers will share 1-2 celebrations and a couple of areas of growth for your child.
Happy Thanksgiving to our students and families! 
Your Journey Begins Here!
Keri Busenius & Rita Lal
Principal & Assistant Principal
WEEKS AT A GLANCE
Tuesday Oct 12

Breakfast Club (courtesy of CALS) continues for all students!
On Alert & Lockdown Drill
Mental Health Awareness continues

Wednesday 13

Hot Dog Lunch Day
Breakfast Club delivery AM

Thursday 14

Breakfast Club delivery AM

Friday 15

Loco Burro Hot Lunch
School Interviews website opens to parents/caregivers
Monday Oct 18

No School; Professional Learning Day for Staff
Municipal Election

Tuesday 19

A great day for learning!

Breakfast Club delivery AM

Wednesday 20

Bus Evacuation Drill
Kindergarten - Little Elk Island Adventures (Bus Safety)
Breakfast Club delivery AM
Hot Dog Lunch Day

Thursday 21

Breakfast Club delivery AM

Friday Oct 22
October 25 - 29 events include the School Council meeting, Parent-Teacher Interviews, the Fundraising Society's Little Caesar's delivery, and Halloween activities.
Table of Contents
Volunteers Needed - Hot Dog Days
Parent-Teacher Interviews - Oct 26/27
Brightspace for Parents/Guardians - online learning platform
Caregiver Education Series
School Volunteers Needed - Hot Dog Days
Volunteers are invited to help us with our Wednesday Hot Dog Days. If you are available to package hot dogs and buns into foil and assist with kitchen and classroom bin cleanup between 9:45 - 11:45 AM, please email Mrs. Connie Bay at General.ALH@eips.ca  . Thank you to our Hot Dog Day key staff - Mrs. Dawn Ionetz and Mrs. Connie Bay - for their organization and preparations to keep warm hot dogs on the menu for students this year!
Speaking of hot dogs, if your child does not eat pork hot dogs and would participate if an alternative was offered (eg., veggie dog), please email us at General.ALH@eips.ca . If children cannot participate because of the hot dog bun and you would like to send your child with a gluten free bun that day, we can provide just a hot dog weiner for children and they can prepare the hot dog themselves in the classroom at lunch. Email us and let us know!
As you are aware, proof of vaccination is required for volunteers, and masking is mandatory. Please send your proof of vaccination to Principal.ALH@eips.ca if you have been invited in to volunteer. A negative COVID test within the last 72 hours is also acceptable. Please check out EIPS Operations Guidelines (page 19) for more information. 
Parent-Teacher Interviews
This fall's interviews will be virtual on October 26 & 27. Teachers will send homeroom families and options classes families a letter outlining interview times and the format for interviews (eg., phone call and/or Google Meet/Teams link). 
Beginning October 16, please visit www.schoolinterviews.ca .
Use event code 5gz7n to sign up for interviews
Brightspace for Parents/Guardians
Should classes need to move to online learning, Brightspace will be the learning platform again this year. Visit the Brightspace 101 information site to get yourself set up on the new app and see what your child may have due.
To help your child access work online, visit Brightspace 101 for Students. Parents of students in Kindergarten to Grade 2 will likely need to help children login from home should the classroom move to online learning. Students in Grades 3-6 are generally proficient in logging on themselves, but information can be found here if they need assistance. 
School Bus Safety Week: October 17-23
Schools throughout Elk Island Public Schools (EIPS) are celebrating School Bus Safety Week October 17-23. The theme: Bus Rules Rock!, which focuses on the importance of being a responsible rider. Throughout the week, various activities are planned, including information sessions, bus-safety lesson plans and bus-evacuation drills.
As part of School Bus Safety Week, A.L. Horton School reminds students and families all Division school buses are equipped with a bus-pass scanner, GPS technology, the Child Check-Mate system and surveillance equipment, which allows Student Transportation to better monitor and manage its more than 160 buses. Families and students also have access to the Traversa Ride 360 app, a mobile tool to help determine the location of a bus, projected arrival times and when a child is scanned onto a bus.
For more information visit EIPS Student Transportation or contact 780- 417-8151.
Pay School Fees Online!
School fee information for the 2021-22 school year is now posted on the PowerSchool Parent Portal. All fees are due within 30 days of being posted. To access your fee information, simply log in to the PowerSchool Parent Portal and go to "Student Fees." There you can view your fees and pay them online using Visa, MasterCard or debit card—when available from your financial institution.
Don't forget to also log in to the PowerSchool Parent Portal regularly throughout the year. Fees are often added to your child's account to cover the cost of various school activities such as field trips, class projects, extracurricular activities fees and more.
If circumstances exist where you are unable to pay your fees, you can apply to have fees waived by submitting an Application for a Waiver of Fees. The application deadline is Dec. 15, 2021.
For more information about school fees, waivers and payment deadlines, visit www.eips.ca/schools/fees. Alternatively, contact Mrs. Connie Bay at A.L. Horton Elementary at 780-632-3113.
Municipal Election 2021: Vote October 18
The next municipal election, which includes the election of local school board trustees, takes place on Monday, Oct. 18, 2021. It's your opportunity to get involved in public education by casting your vote for a public school trustee. 
EIPS Trustee Election information 
Electors can cast their votes for municipal candidates—mayors, reeves, councillors, as applicable—and school board trustee candidates—public or separate. Voting stations are typically open from 10 a.m. to 8 p.m. Each municipality conducts the election for its residents and establishes formal voting station hours and procedures.
To learn more about election day procedures in your area, including opportunities for advance voting and voting by special ballot, visit: County of Minburn, Town of Mundare, Town of Vegreville, Village of Andrew, Village of Chipman
Caregiver Education Sessions: October
Alberta Health Services, in collaboration with The Mental Health Foundation, is proud to offer free online programming for parents and caregivers of children and youth. Upcoming Caregiver Education Sessions, Lunch & Learn Webinars, Drop-in Series and SEEDS Series are outlined in the October Caregiver Education Team Newsletter.