Back to all posts
Posted on
Vesna May 11, Volunteers Needed, Playground Fundraiser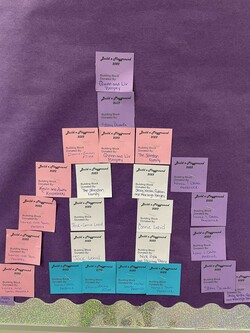 There are many exciting events happening in the school over the next two weeks!
VESNA - UKRAINIAN CULTURAL EVENING MAY 11
We look forward to seeing students and families on the evening of May 11 for Vesna! We have over 300 guests, including student performers, coming to the event. Didn't get your ticket yet? Please call the office at 780-632-3113. Tickets are $2 and can be purchased online via the Parent Portal or we can accept cash at the office.   *Students in the Ukrainian Language Program K-6 do not require a ticket. 
Front row seat winners, selected by virtual spinner, are the following families:
R. Weleschuk with – 4  seats
N.  Bellows with -- 3 seats
P. Stark with -- 3 seats
Seats will be marked for you up front with your family name.
Enter via the southeast gym entrance. Doors open at 5:30 PM. Please note that the front doors of the school will be locked and classrooms will not be accessible during this event. 
Student performances begin at 6 PM. 
Gift contributions
Parents who would like to contribute to a gift recognizing the retirements of Panni Hyshka and Mrs. Menzak at Vesna are invited to send contributions into the school office by noon on May 11. You can email gift organizer Erin G. at e.may.81@hotmail.com for more information. 
VOLUNTEERS NEEDED FOR HOT DOG WEDNESDAYS - MAY 18, 25
We need two parents to help cook, package, and deliver hot dogs to students on May 18. Please call Mrs. Bay in the school office if you can volunteer.
BUILD A PLAYGROUND FUNDRAISER - WEEK TWO
Thank you to the Friends of A.L. Horton Fundraising Society for May's Build a Playground fundraiser. Please send pledge forms and "blocks" back to school as they are completed and we'll get them posted in the school and shared on our Facebook, Instagram, and Twitter accounts. 
We raised over $1500 in week one! We recognize the following donors for their generous support:
$1000 + donors

Vegreville Insurance Ltd. 

$100 -$499 donors
 $5 - $30 donors 

Many individuals whose names are on the Build a Playground "blocks" board in the school.
KINDERGARTEN INFORMATION NIGHT - MAY 17 
Do you have a child registered in Kindergarten next year? If so, make sure to attend our upcoming Kindergarten Information Night on May 17. Doors open at 5:15 PM and the presentation begins at 5:30 PM in the school library. Families of children who are not yet registered are asked to call the school office to confirm their attendance on May 17. Please note that there is no childcare provided.
JOIN YOUR CHILD FOR LUNCH DAY - MAY 25
Our first Family Lunch Day is on Wednesday, May 25. Here is the information you'll want to know.
Please plan to arrive via the front doors between 12 and 12:15 PM.

You are welcome to bring lunch for yourself, for you and your child, and/or order hot dogs for lunch that day. 

All students who order hot dog lunch must pick up their lunch in their own classroom.

Parents and caregivers can meet at the classroom and head outdoors to eat after checking in with the teacher. Older children are asked to meet parents at the youngest child's classroom and then head outside to eat. 
If the weather isn't warm or dry enough for eating outdoors, the teacher will have a chair set up for you in your child's classroom. 

Unfortunately, we cannot accommodate siblings in other classrooms. Parents will need to select ONE child to eat with in case the weather is poor. 

Sign up to join your child for lunch on May 25 using this online form. Key information is available on the form, including times, check in information, selection of a child's classroom in which to eat, the option to eat outdoors, and ordering a hot dog for yourself that day.
UPCOMING EVENTS
May 11 - "Vesna" Ukrainian Cultural Evening - 5:30 doors open; program begins at 6 PM
May 11 - Hot Dog lunch day 
May 11 - Grade One virtual Zoo field trip
May 13 - Chins Hot Lunch Day
May 17 - Kindergarten Information Night 5:30 PM
May 17 - Grade 3 and LINKS field trip to Telus World of Science
May 18 - Grade 6 English Language Arts Achievement Test - Part A
May 18 - Hot Dog lunch day
May 20 - School Closure Day
May 23 - No School; Victoria Day
May 25 - Lunch with Parents/Guardians - outdoors or indoors (please RSVP)
May 25 -  Hot Dog lunch day (parents can order on the Parent Portal, too)
May 26 - Grade 6 field trip to Telus World of Science
May 27 - Boston Pizza Hot Lunch Day
May 27 - Grade 4 field trip to Fort Edmonton
May 30 - School Council and Friends Fundraising meetings 6:30 PM
Note that you can alway revisit the current and previous school newsletters on our school website. 
Your journey begins here!
Keri Busenius & Rita Lal
Principal  &  Assistant Principal