Back to all posts
Posted on
MENTAL HEALTH, MALANKA, & SCHOOL COUNCIL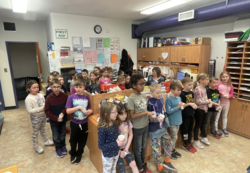 MENTAL HEALTH, MALANKA, & SCHOOL COUNCIL 
January 25 is Bell Let's Talk Day. 
Leading up to this date we've been talking about mental health and wellness to reduce the stigma, shame, and embarrassment some children and adults experience around this topic. 
During the long winter months and throughout the year we want to have trusted people we can talk to about our emotions and how we are doing on the mental health side of things. Are we tired? Sad? Angry? Do we experience enjoyment with favourite activities, or has it been awhile since we felt happy?
Want to know more or how to help a loved one? Check out https://letstalk.bell.ca/ 
You can also give us a call at the school to chat with our Mental Health & Wellness Team:
Ms. Kirsten McSween, Family School Liaison Worker practicum student
Miss Kastyn Konieczny, Mental Health Capacity Building Coach
Ms. Chloe Giebelhaus, School Counsellor
Mrs. Rita Lal, Assistant Principal
Mrs. Keri Busenius, Principal
We'll keep talking with students about feelings, getting lots of sleep, showing gratitude, being active, petting the dog, and creating downtime so we can recharge physically and mentally and be our best selves. 
SCHOOL COUNCIL MEETING JANUARY 23 @ 6:30 PM - DISCUSSIONS
Please plan to join school council volunteers and other parents/caregivers online to ask questions and talk about the proposed school fees (info sent in email to all families).
Can't make it? We will follow up with alternate ways to give feedback and will address questions and answers that came up at the meeting. 
Also up for discussion is the Alberta School Councils Association question for feedback:
What actions would you recommend to the Alberta government to improve education for your child(ren) and the school? What would be your #1 priority?

Early childhood level 
Younger elementary students Gr 1-3 
Older elementary students Gr 4-6 
School Overall
HIGHLIGHTS FROM THE GRADE 1/2 UKRAINIAN LANGUAGE & CULTURE CLASS
This month the class has been discussing Ukrainian Christmas and New Year's traditions. Pani Fedorouk prepared kutia (cooked wheat with honey and poppy seeds) and shared it with students. 
To celebrate Malanka (Ukrainian New Year), students participated in the throwing of the wheat.  They visited several classes to give them a New Year's blessing and then they distributed wheat to the students and teachers.  This is meant to give them wealth, health, and abundant crops. 
Later in the month they will begin learning the Ukrainian alphabet!
IMPORTANT DATES
January 20   Hot lunch day - Alberts
January 23  School Council & Friends meetings (virtual) 6:30 PM
January 23ish Grade 4 Parents - watch your snail mail for a survey
January 27 Lunch with Your Child day - classroom lunch or gym picnic
January 27  Twin/Triplet spirit day
January 27  Hot lunch day - Pizza Hut
January 30  No School; professional learning day for teachers
February 1  Returning student registration opens
February 1  Kindergarten registration opens
February 1  Early dismissal at 2:00 PM for staff meeting
February 9 & 10 No School; teachers' convention in Edmonton
February 20  No School; Family Day holiday
February 22 & 23 Early Progress Conferences for Term 2 (3:30 - 7 PM)
March Wendy Brook Festival of performances (speaking in many
languages, singing, and more!)
Keri Busenius      &          Rita Lal
Principal                         Assistant Principal
Connecting to foster the minds and hearts of leaders.